Or maybe Bono and The Edge were performing them.
Who are they? A bunch of DC's most talented teens! The Duke Ellington School of the Arts concert choir members joined Bono and The Edge for their Tiny Desk performance.
Kirsten Holmes and Jevon Skipper are both students at the arts-centered school in Washington, DC, and received a call from their choir director about a month earlier offering the opportunity to perform with the rock stars.
The two vocalists, who aspire to use their talents to dive into the worlds of gospel, opera and R&B music, agreed to perform with a few other classmates and members of the choir.
What's the problem? It's a small desk! Enough said, right?
The performance features four songs, including a version of "Stuck in a Moment You Can't Get Out Of", written for the late INXS vocalist Michael Hutchence, and a reworked version of "Walk On".
The performance was a preview of U2's new album, Songs of Surrender.
Although that may not have immediately impressed Kirsten and Jevon as much as it did some others. The Gen Z duo admitted that they were not very familiar with the Irish crooners and their band.
(I guess they never had to deal with the shock of an unsolicited album showing up on their iTunes one fateful morning in 2014.)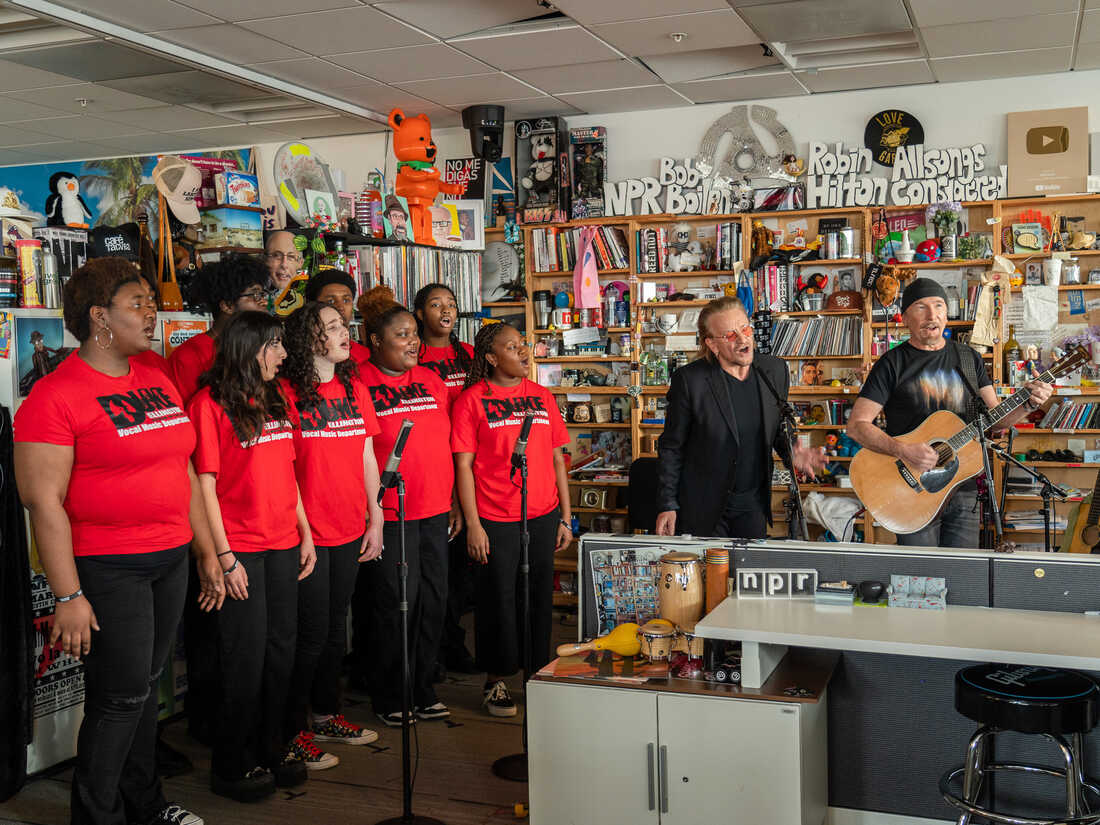 What do they say?
On learning about Bono's existence:
Kirsten: I had found out before… but [because] my parents [know].

Jevon: Not even my parents. My father. Because I know my father was like, 'Look them up!' So I look them up and I see they performed at the Super Bowl. I'm like, 'Oh, they must be like big news when they perform in the Super Bowl.'

Kirsten: We are young people. You know, we're young, so we're still learning and stuff, but it's just a wow moment.
About meeting Bono:
Kristen: [He was] really chill, like down to earth. And I love that they weren't big-headed because I know sometimes being in the presence of someone of higher status can be very intimidating. And I didn't feel like any of us felt harassment from them. It was just really a learning experience. They were like, 'Well, what do you think would go well in this part?'

Jevon: One of our friends accidentally misunderstood the words. So he accidentally sang the wrong thing. And Bono said, "Oh wait, what have you done?" He was like, "I like that, man."

It was fun. It was funny because we all knew it was an accident, but then we went with it and Bono liked it. So we just did it.
On the joy of performing:
Kirsten: It was great, very happy. I think my moment was to see the reaction of the people, just to let other people enjoy what we can do. And it was just really good.

Javon: I think I just love the feeling of being able to make someone's day with the gift God gave me. Ever since I was younger I just loved singing in front of people and making people feel better and just cheering people on.
So what now?
You can view the full Bono and The Edge Tiny Desk, along with hundreds of others, on our website.
U2's latest album, Songs of Surrenderwas released Friday, March 17.
And get ready for the 15th anniversary of the Tiny Desk concert series next month!
Learn more: